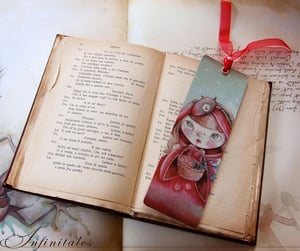 €

3.00
This bookmark is off-set printed on fine art watercolour paper, so the colours are strong and vivid and they will not fade.
Each bookmark is laminated to make it glossy and water(or coffee, or tea!)resistant.
It features a small eyelet, a red ribbon and a cute bead to fix it in place that will delightfully play peek-a-boo from the top of your favourite book ♥
Back of bookmark is signed on the back with my custom stamp upon a lovely texture.
Size is approximatively 5,7 x 17,8 cm (7 x 2 1/4") (without ribbon), with round corners.
(Listing is for one bookmark only)